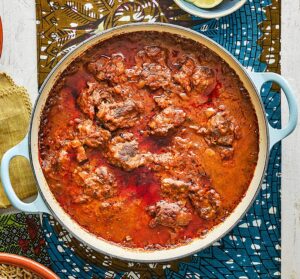 Heat the oven to 190C/170C fan/gas 5. Heat the oil in a pan over a medium heat until very hot, then fry the mutton pieces until browned (it's best to do this in batches), then transfer to an ovenproof dish.
Blitz the anise, ginger, garlic and shallots in a food processor until smooth, then pour over the meat along with 800ml of the chicken stock. Cover and cook in the oven for 90 mins.
Meanwhile, fry the onion for 5 mins in the pan that you used to fry the meat, over a low heat, until softened and translucent. Add the tomato purée and cook for another 5 mins, then the peppers, and cook for a further 7 mins.
Mix the peanut butter with the remaining stock, then pour into the onion and pepper mix. Stir in the toasted ground cloves and grains of selim, and cook for 5 mins more.
After the meat has been in the oven for 90 mins, add the peppery peanut butter mix and dawadawa. Return to the oven and cook for another 60 mins or until the meat is very tender. Season and squeeze in a little lemon juice. Serve with rice, couscous or mashed potatoes.