Some Must Try Bihari Dishes before you Die !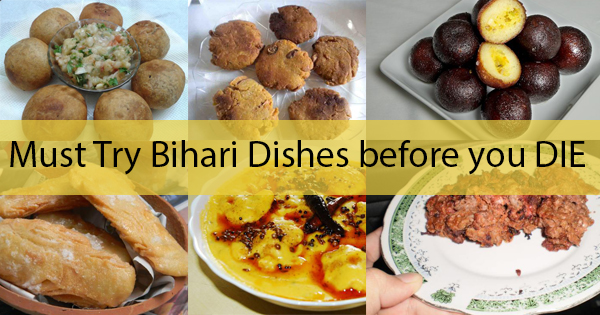 Bihari is not just a cast or race its a state of mind that's what i think. Anyone can be a Bihari at some point of life. A Bihari can be lethal and so is there food not everyone can digest but the one who can digest their Food can even have a better relation with Bihari's. Bihari cuisine is definitely scrumptious, mouth-watering and drool-inducing. Here are some Must try Bihari cuisine before you go to taste the last food of your life!
1- Littichokha
The dish Bihar is known for;LittiChokha is an irreplaceable part of the Bihari cuisine. The littiisa baked round wheat dough which has a stuffing made up of a mixture of a variety of elements like roasted Gram flour, Lemon juice and Spices. It is served with a side dish known as Chokha which is prepared with boiled and mashed potatoes and vegetables.
2- Thekua
This is one of the commonest sweet also known as Khajuria, It is prepared by mixing Jaggery and wheat flour together. It is then moulded in shape and deep fried in oil. This one is a total sweet overload!
3- Khaja
Khaja is a common wafer-like snack. It is prepared from sugar and flour, which is firs, mixed and then deep fried. In the end, it is dipped and soaked in a hot Sugar syrup to infuse the sweetness into the Khaja.
4- Khurma
Most of the sweets are made up of simple components like Flour and Sugar, but each of them is so unique and different in taste from one another that it is a surprise to many that they were made using the same ingredients. This snack is made from flour and salt, primarily. It is then deep fried and dipped in sugar syrup. The sugar ends up crystallizing once it cools down. It is known to be a special snack reserved for occasions only.
5- Kadhibadi
KadhiBadi is a common savoury dish. Gram flour is the hero of this dish as it used to make the Badi or the Pakodas, along with the Kadhi or the Curry in which the Badis are cooked.
6- Dal Puri
Dal Puri is a special kind of Puri which has a dal stuffing and is a major source of happiness for most of us. Unlike the normal puri, the Dal Puri uses a special Bengal Gram stuffing. It is not only tastier but also more filling.
7- Kheermakhana
Makhana might be unknown to a lot of people, but it sure is a delight. It is also known as Fox Nut. Makhana can be eaten as a snack by simply roasting them in a pan. Otherwise, you have this beautiful dish which is a Kheer recipe. In this recipe,Kheer is prepared in a similar process as that of normal Kheer but is slightly less sweet due to the addition of Makhana in it.
8- Pedakiya
Another of the most famous sweets of Biharis, Pedakiya is prepared with flour with stuffing inside it. The flour is stuffed with a mixture of Suji, Sugar, and Khoya.
9- Laktho
To make this dish, a RiceFlour dough is first kneaded. Then, it is deep fried and further soaked in a thick and sweet jaggery syrup, so that the sweet absorbs the sweetness.
10- Dal Pitha
Dal Pitha is the Bihari alternative to Momos. It is prepared in a similar way as that of Momos. A rice flour dumpling batter is prepared within which a mix of Bengal Gram paste is stuffed. The dumpling is steamed to make this amazing dish.
11- Chanaghugni
ChanaGhugni is a spicy mix of Bengal gram which is prepared with Onion, Tomatoes, Green chillies, and Spices. This tasty dish is a Sunday special.
12 – Kala Jamun
Kala Jamun is a sweet much like the GulabJamun, except it has a blackish tinge to it, which is how it gets its name. It is prepared from Paneer, Khoya, Sugar and Milk, and is one of the most delicious sweets ever!
But the Most famous of All is
13- Bihari Kebab
Bihari Kebabs are kebabs prepared with chicken strips which are marinated in a mixture. The mixture is prepared in Yoghurt, Ginger, Chilli powder, Cardamom, Mustard powder, Papaya, and Pepper. It makes for a delectable Kebab, unlike anything you've ever had before.

I have tried almost 6 dishes out of the above mentioned and now Let me go and grab some more Bihari dishes before i get my last meal. So the phenomenon which is said "Jo na katay aari se woh katay Bihari say" will now be replaced with "Khana khao sirf Bihari choro yeh Aari waari". Tag all your Bihari known Friends and ask them to treat you with some of the most scrumptious dishes on Planet Earth !

(Visited 6,927 times, 1 visits today)



Disclaimer: We do not allow users to post content which is copyright and We take strict actions against the users who post infringement content on our website.Although we do not host any content, users post embed videos from youtube, facebook, Dailymotion and Vimeo and are moderated before posting but we still take strict action against the copyright videos posted.If you are an official representative of any company whose videos are posted illegally on our website or you think some video infringe the copyright then you can simply send an email to info@thecookbook.pk