Jalal Haider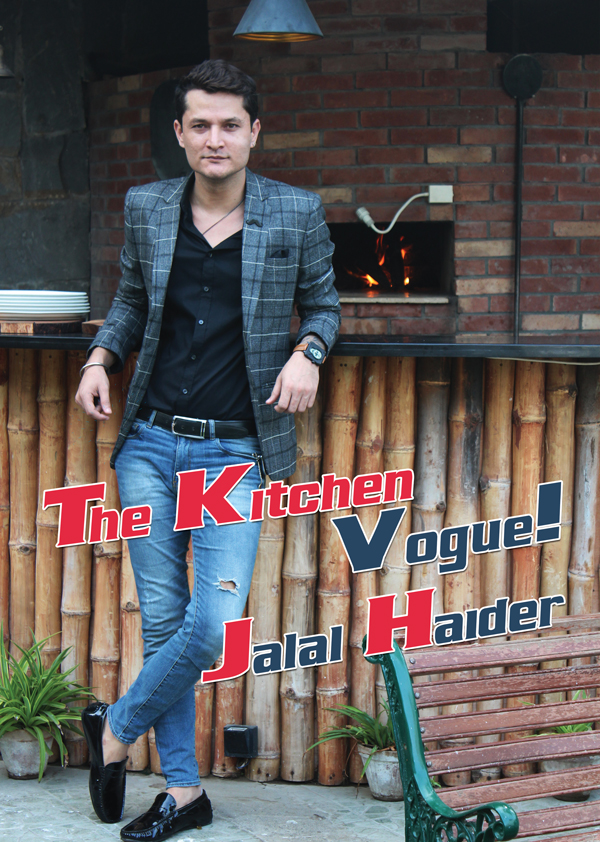 TCB: Tell us something about yourself. How did you start your career?
Chef: The starting of my career is very difficult. It seems very funky in listening and seeing. After matriculation I started my career with A well known chef 'Sadaqat Qureshi' as a dish washer and for around 9 months I used to wash the dishes, sweeping, cleaning of washrooms etc. After 9 months I became sick and then I skipped that restaurant. Again I have been reoffered as an helper by the Virgo Legacy One Ten owned by Captain Ayesha Jamali, his son Faisal rehired me as a helper and I worked there for around 2 months. Then I went to Okra to Ayaz Khan I joined as a helper again in 2001 or 2002. Just like this I started the career, came forward from the helper become cook then became up towards the cold kitchen supervisor. I worked there for about 2 3 years. Actually Ayaz Khan was the owner but for me he was a chef. I worked there with so many chefs, learned new things and new cuisines. Basically Okra was a learning stage for me and the start of my career.
I started my career as a dish washer
TCB: In your childhood did you ever thought that you will become this much famous chef?
Chef: I never thought of making food but yes my father was a pastry chef, Haji Hamza Ali. He was my inspiration but from starting my passion was to become an artist like painting, sketching, oil paint on canvas, acrylic on canvas, charcoal etc but when I got an opportunity from culniray field I started my career here. I spend 6 months here and I found it so amazing and interesting and then I continued this with the prayers of my mother, sisters and fans.
TCB: You have worked in many restaurants and cafes. Where was the most amazing and memorable experience you had?
Chef: Frankly speaking I had my best experience is in Okra and in Sheraton. I will never forget these two experiences because Okra is my learning place, my teachers gave me the best time in Okra and my friends gave the best time in Sheraton.
TCB: You have worked in many tv shows and many restaurants. Where did you have the most amazing time?
Chef: Well there is a big different in tv shows and restaurants. Cooking is my passion so I enjoy in restaurant because you have a wonderful understanding with the staff managing them and having the tough time and I really enjoy that. Usually in shows you have fans and their love and it is a complete different charm of the show. Attending the calls, cooking, gossiping and enjoying with the fans, basically it's a complete entertainment.
TCB: You are a food consultant. How much difficult it is for a chef to maintain a health during cooking?
Chef: As you see how I am. I can't eat during cooking. The stomach becomes full while tasting the sauces etc, so there was no need of eating something. Honestly speaking, while making these foods we don't like to eat this, at that time we wish that we can get BBQ Roll from somewhere.
TCB: What is your favorite dish?
Chef: Don't ask this (while laughing), everyone will laugh. Well basically my favorite dish is Chicken Roll and Burgers.
TCB: In which restaurant you mostly like to eat in Pakistan?
Chef: Well as you can see I am 24/7 available in restaurant I just go home only to sleep, so I only like the food of Ambrosia because it's my creation that's why it is the best.
TCB: By profession you are a chef. Are you a chef at home as well?
Chef: Well I have so many loving fans here so I will not lie to them. I'm not at all chef at home. My mother and sister are chef at home.
I have never made anything for my family
TCB: What is your specialty? Which of your dish your family like the most?
Chef: Well I have never made anything for my family up till now. Yes, in the start of my career once I made a pumpkin soup and pasta. My family ate just a little bit and remaining they throw it and said 'this is the worst food we have never eaten up till now'. So then I just realized I will never going to make anything again at home (laughing).

TCB: You are a teacher as well. So how was the experience of teaching?
Chef: Salute to every teacher in any field whether in hotel industry or in any industry because teaching is not easy task. Teaching in any college or university to students it's just like you are feeding a new born baby. It is very tough time. I was in COTHM and I enjoyed teaching and gained knowledge.

TCB: As a consultant you have worked in many projects. What are the projects and which one is your best project?
Chef: Well we have opened many restaurants up till now. One restaurant was Hotel Mercure, worked with Chef Zain. It was a five star hotel opening and we were in first batch of the kitchen. So it was a very different experience and learned so many things. Worked in so many restaurants after that but when we came Ambrosia, the experience was different. We learned many new things from interior to exterior. We have been hired here as a consultant. So the best experience up till now is Ambrosia.

TCB: Apart from cooking, what are your other hobbies?
Chef: Apart from cooking, I like to hangout but again when we talk about hospitality industry, you can't give time to your family so you automatically neglect your hobbies. Apart from cooking other hobby is art work, I like painting

TCB: At very young age you have became a star chef. So what are your future goals and targets which you want to achieve in life?
Chef: Well I am 32-33 of age, I am overwhelmed someone said me young. But the thing is it is all because of the prayers of my family and fans that's why I am here. But in future I am planning to have something of my own. We are having our chefs catering service in which we are working as a event planner as well plus we are also running our consultation company. My future goal is to open a 'DHAABA' not a restaurant but a 'DHAABA' in which I serve the best tea, paratha and bakarkhani in town. Which no one have ever experienced in Pakistan. This will be our own creation. I just want to tell to the people that you need a big heart to run this hotel industry that's why I am happy with Dhaaba.



Disclaimer: We do not allow users to post content which is copyright and We take strict actions against the users who post infringement content on our website.Although we do not host any content, users post embed videos from youtube, facebook, Dailymotion and Vimeo and are moderated before posting but we still take strict action against the copyright videos posted.If you are an official representative of any company whose videos are posted illegally on our website or you think some video infringe the copyright then you can simply send an email to info@thecookbook.pk