Daal Baati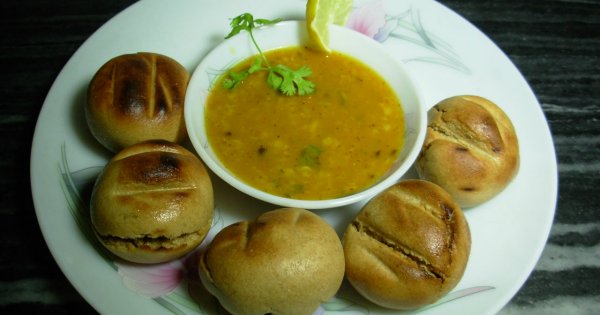 Ingredients
Moong ki daal ¼ cup
Masoor ki daal ¼ cup
Channay ki daal ¼ cup
Maash ki daal ¼ cup
Tuar ki daal ¼ cup
Salt ½ tsp
For Baghaar:
Ghee ½ cup
Garlic crushed 1 tbsp
Cumin seeds 1 tsp
Curry leaves 15
Tomatoes 3 (sliced)
Salt to taste
Chili powder 1 tsp
Turmeric ½ tsp
Green chilies 4 (chopped)
Coriander leaves 2 to 3 tbsp (chopped)
For Bhati:
Wheat flour 2 cups
Salt 1 tsp
Carom seeds ½ tsp
Oil 1/3 cup
Cooking Directions
For Daal: Soak daals for 30 minutes.
Drain water and put all the daals in a pan with salt and 2 cups water. Cook till done. And well mixed.
For Baghaar: In pan heat ghee, add crushed garlic, cumin seeds, curry leaves, sliced tomatoes, salt, chili powder and turmeric.
Fry masala well until tomatoes tender.
Add green chilies. Add this to the daal and mix well. Cook for 10 minutes.
Remove from fire. Add in chopped coriander leaves.
For Bhati: Put wheat flour, salt, carom seeds and oil a bowl and knead into a hard dough.
Make small balls out of the dough and keep it for 10 minutes.
Then bake in a pre heated oven at 180 degree C for 40 minutes until done. It will crack from center.
Then dip each ball in hot melted ghee and keep aside.
Serve with daal.
(Visited 2,220 times, 1 visits today)



Disclaimer: We do not allow users to post content which is copyright and We take strict actions against the users who post infringement content on our website.Although we do not host any content, users post embed videos from youtube, facebook, Dailymotion and Vimeo and are moderated before posting but we still take strict action against the copyright videos posted.If you are an official representative of any company whose videos are posted illegally on our website or you think some video infringe the copyright then you can simply send an email to info@thecookbook.pk