Zubaida Apa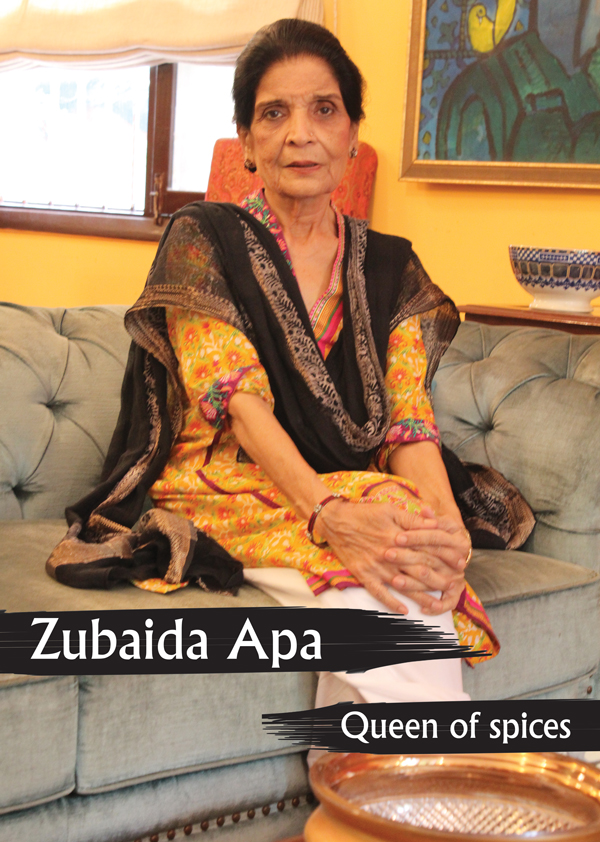 TCB: How did you start your career?
Apa: I was not aware of how I will start my career because to start a career one should have a degree or any
experience. My husband worked in a multinational company. So whenever he arranged any get together at home whether it was a gathering of three persons or two hundred people, I always cook alone for them. From salads and starters to main course and deserts. When the retiring time of my husband came, the chairman of his company were at my home on dinner. When he had food at our place, saw the style of my food, the serving, hard work and style of wearing sari. So, he just offered me to work in Dalda Advisory with them. I told him that I don't know much English and your company is purely English medium I can't do anything in it. He told me to work in Urdu and write the recipes. So, when my husband retired I got the job at the age of 50 and I worked there for at least 8 years. After that I worked for National Foods, and make new masala recipes. I worked in many channels and from everywhere I got much respect. When food channels started and I worked for them atleast 11 years and still I am working for them and if I count all shows for every channel, so they become more than 6500 shows in 22 years and my age is 72 years.
TCB: How did you adopt the hobby of cooking or since childhood it is your hobby?
Apa: Since childhood cooking was not my hobby. My mother used to force me for sweeping, washing clothes, cleaning of the house but never gives importance to cooking and always said that I ll learn in future. And when I get married and I just realized that I have to work all alone. I made Curry for the first time I never knew that we have to put yogurt in it as well. I just mix basin in water and started to cook but it doesn't become a thick paste. As I was newly married, I thought my husband will surely understand and I just threw the curry in the dustbin. I wore flowers and bangles. When my husband came back home from work and asked, "Have you made anything today?" I told him that I had made, but threw in the dustbin because I couldn't make it right. He said, it's okay and I requested him to go out and eat Chinese. One day, suddenly my husband's university's friends arrived at our home and said, " 'We will have lunch at your home." Then I became completely blank. Well I went to grocery store. I had my mother's recipe in my mind because she make lamb chops and boil them in yogurt, ginger and garlic paste. I just did the same and made it the same way my mother did. I made the roast, rice and daal and decorate the table beautifully. When my husband's friends had their lunch they just said that they have never eaten such a tasty food. I become much more confident that I can cook as well and within a month I cooked for atleast 250 people alone.
I started my career at the age of 50 and done more than 6500 shows in 22 years
TCB: You are famous for your tips and remedies. You have remedy for almost everything. What is the secret behind it?
Apa: Basically when you live in joint family, you have been told about the remedies. Like if there is flu so you can have hot honey mixed with carom seeds (ajwain) and ginger. If you are having headache, take lemon juice mix it in water and rub it on your head the pain will surely disappear. At that time no one knows about the name of the medicines, so I just adopt the remedies from my grandmother. I have never given those remedies which can harm anyone, all are homemade remedies. But then I started reading books because if I have to
work, I need to study. If there is cooking vine in the recipe book, most of the people don't know about it so I changed it into white vinegar. So many people can't afford cream of tarter so I changed it into sweet soda. I got the best results from it, and then I revealed these to people. I tell home cleaning remedies, food remedies I never tell anything about facial and what to do in face. I always tell those remedies which are home made. If anyone doesn't get any benefit from it so they don't get any harm also.

TCB: Is there anyone in your family interested in cooking except you?
Apa: Well, my all sisters are good in cooking as well as my mother. She left this world in the age of 86. She used to cook for hundred people alone. My sisters Fatima Suriya Bhajia and Sughra Baji also used to cook well. Everybody has the interest in cooking and they all used to cook amazing.

TCB: You are the only one in your family in this cooking field. How did you got this interest?
Apa: ) I was not that much educated neither I was interested in literature so by the grace of God I got famous being not in literature.

TCB: What is your favorite dish?
Apa: Khatti Daal or Chawal

TCB: In which restaurant you mostly like to eat food?
Apa: Well, I don't like to eat outside. My daughter and son both get upset, so I used to eat slightly barbeque.

TCB: Which of your creation your family likes to eat?
Apa: Almost every kind of dish because I don't go for so much variety in food. I make simple food and cook fast. I
usually don't roast much.

TCB: You have been a judge in many TV shows, so are you a judge in your house as well?
Apa: Ofcourse, I do if there is any lacking in spice or oil because by cooking I have become expert in it.

TCB: Now a days on which project you are working and what are your upcoming projects?
Apa: Well now a days I am on contract with Masala but I do at different places for classes and inaugurations.

TCB: What suggestions would you like to give to the women out there to preen their house?
Apa: To make their house strong a women should be patient. She needs to learn to adjust in good and bad times. Now a days women have no patience. A small situation makes them to go back their mother's house. I
request to all parents that they should give training of patience to their daughters. Girls should take permission from their parents, wherever they go after school or college and should discuss with them.

TCB: Being a chef you have achieved almost everything. Are there still any goals or targets left?
Apa: ) I got everything by the grace of God. I got more than my status. God gifted me good childrens. My daughter is a principle of a well known school. My son is a CEO of a reputable company. My grandson has completed his MA.LLB from England.

TCB: Your family has served this country with legends. How proud you feel?
Apa: I feel very much proud. At first when I went outside. People used to call me that, "She is sister of Anwar Maqsood, Fatima Suraiya Bajia or Zehra Nigha so, I felt happy that I have being recognized by someone's name. But now people used to call them 'Anwar Maqsood is a brother of Zubaida Tariq' so, I feel much happy.

TCB: Taste is in the hand of chef or in the recipe?
Apa: Basically it comes in both, hand and recipe. If you make the recipe in a right way then the dish will become more good.



Disclaimer: We do not allow users to post content which is copyright and We take strict actions against the users who post infringement content on our website.Although we do not host any content, users post embed videos from youtube, facebook, Dailymotion and Vimeo and are moderated before posting but we still take strict action against the copyright videos posted.If you are an official representative of any company whose videos are posted illegally on our website or you think some video infringe the copyright then you can simply send an email to info@thecookbook.pk