Yule Log Chocolate Decadence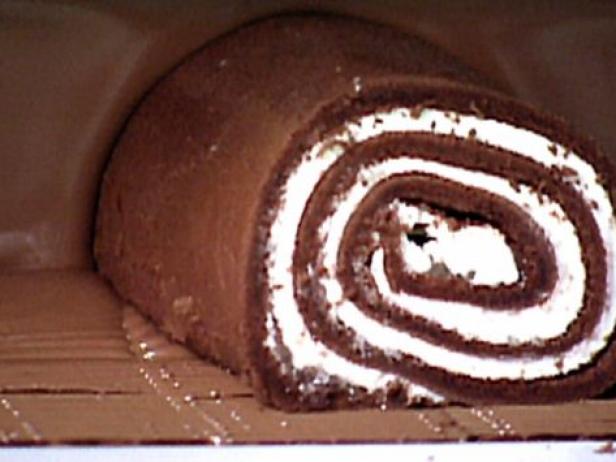 Ingredients
Coffee 2 tbsp
Water 2 tbsp
All-purpose flour 11 tbsp
Salt ½ tsp
Baking powder ½ tsp
Egg 5
White sugar ½ tbsp
Chocolate sauce for Batter:
Chocolate 2 oz (unsweetened)
Baking soda ¼ tsp
White sugar 2 tbsp
Confectioner's sugar for dusting
For Filling and Frosting:
Semisweet chocolate 4 0z
Confectioner's sugar 3 cup
Vanilla extract ½ tsp
Coffee 1 tbsp
Olper Cream  1 cup
Cooking Directions
Preheat the oven at 175 degrees C.

Grease 10×15 inch swiss roll pan and line with parchment paper.

Put coffee with ½ cup of water give boil and remove use this coffee mixture when needed in recipe.

Sieve flour, salt and baking powder in a large bowl keep a side.

In another bowl beat eggs by electric beater until fluffy.

Add sugar slowly and beat more and mix well.

Add flour mixture and fold by spatula into eggs bowls.

Chocolate Sauce for Batter: Now melt chocolate in a sauce pan on low heat.

Add water, baking soda and sugar stir and mix well all ingredients to combine.

Now pour this chocolate sauce into cake batter and fold.

Pour into lined pan and bake for 20 minutes at 175 C.

Now sift icing sugar on cloth and shift baked cake on this, discard parchment paper, dust cake from icing sugar.

Roll cake sheet along with cloth like swiss roll and leave to cool on rack.

For Frosting and Filling: Melt chocolate on low heat let it cool at room temperature keep a side.

In a bowl add sugar, vanilla extract, coffee and cream cheese beat all ingredients and mix into melted chocolate well.

Unroll cake and spread this on surface of cake leave ¼ part of this filling for decor.

Roll Cake again and place on serving long platter pour remaining chocolate frosting on cake use specula and give tree like texture of a cut log and decor as desired decorative edibles.
(Visited 3,325 times, 1 visits today)



Disclaimer: We do not allow users to post content which is copyright and We take strict actions against the users who post infringement content on our website.Although we do not host any content, users post embed videos from youtube, facebook, Dailymotion and Vimeo and are moderated before posting but we still take strict action against the copyright videos posted.If you are an official representative of any company whose videos are posted illegally on our website or you think some video infringe the copyright then you can simply send an email to info@thecookbook.pk