What is Fruit Trifle & How to Make it?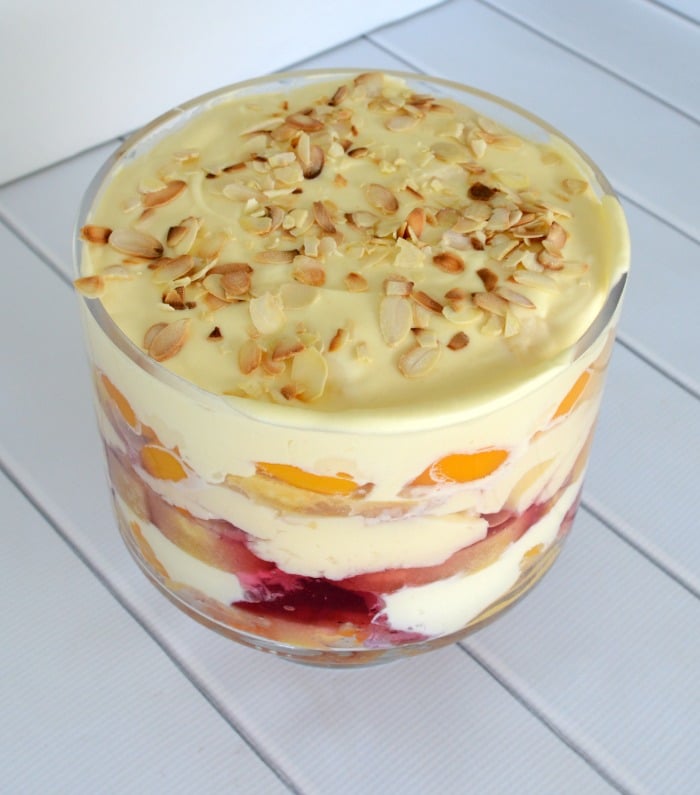 What is Fruit Trifle
Trifles are easy to make, healthy and one of the most loved fruit based dessert. There are numerous ways to make this dessert. Over the years many variations have been presented by chefs across the globe. Here is a tasty and decadent recipe of a Fruit Trifle.
How to Make It
The ingredients you will need are:  2 packets of strawberry jelly (they are easily available) 600 ml of cream, 395 g tin of condensed milk, 2 swiss rolls (they are available from bakeries), 2 cups of mixed fruits cut and diced (you can always use tin fruit), 400 g tin of sliced peaches, 500 ml of vanilla custard and 50 g of almonds (cut into small pieces)

Start by making the 2 packs of jelly per the packet instructions and pour it into a large bowl and place into the fridge to set. Then cut the swiss roll into 1cm pieces.Place the cream and condensed milk into the bowl of an electric mixer and beat until soft peaks form. Set aside until needed.  Now arrange half of the swiss rolls on the base of a clear bowl, top with half of custurd, half of fruits, half of jelly and half of cream. Repeat the same order once again. Now place the bowl in the fridge for 4 hours. Garnish the almonds over the top of your trifle just before serving.

This is a long and laborious process but it's totally worth it! Do try it!



Disclaimer: We do not allow users to post content which is copyright and We take strict actions against the users who post infringement content on our website.Although we do not host any content, users post embed videos from youtube, facebook, Dailymotion and Vimeo and are moderated before posting but we still take strict action against the copyright videos posted.If you are an official representative of any company whose videos are posted illegally on our website or you think some video infringe the copyright then you can simply send an email to info@thecookbook.pk