Tribute to the Heroes of Pakistan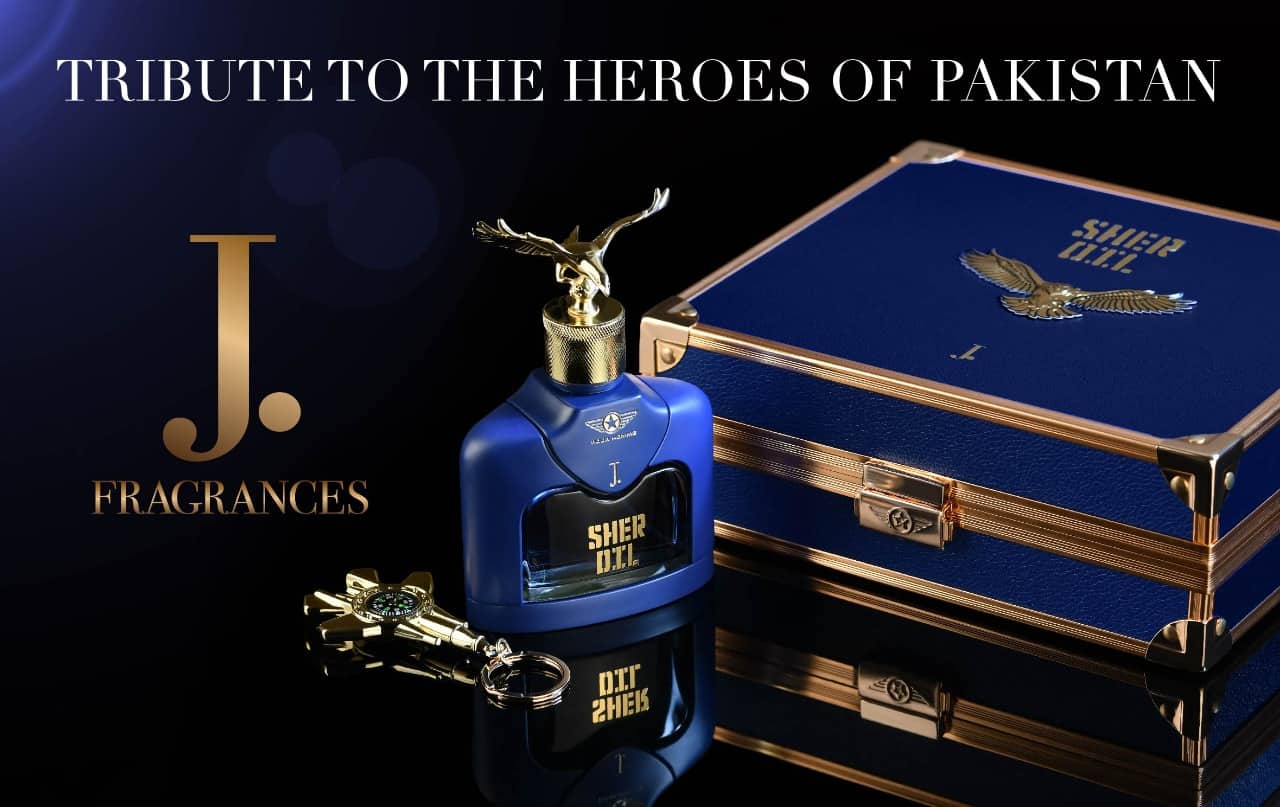 J. Frontline, J. Sherdil, J. Marine
Tribute to the Heroes of Pakistan
J. was established in 2002 and has expanded across the world with 20+ international outlets across US, UK, Australia, Canada, New Zealand, South Africa, Saudi Arabia, UAE, and Qatar, while having a network of 100+ outlets across Pakistan.
While making its mark in the world, J. has always strived to live up to the values given to us by our country. Throughout its journey, J. has never forgotten the core of its homeland and the heroes who nurture it with their ultimate sacrifice and blood. Therefore from time to time, J. has paid tribute to the spirit of Pakistan's heroes.
J. is proud to launch three new fragrances; Frontline, Sherdil and Marine, in honor of Pakistan's lionhearts. Honoring the sacrifice made by the martyrs of our nation, J. pays homage to the legacy of courage that remains alive in the pages of history, like an unforgettable scent.
"It's about time we pay homage to the heroes who keep us safe," said Ahmed Ali, Group Brand Manager at J., "Pakistan's heroes are one of the most formidable on the planet and their glory deserves to be showcased and paid tribute to."
The aforementioned fragrances, crafted exclusively for men, carry a masculine effect and convey the notes of Mandarin, Marine Accord, Cedarwood, Gaiac Wood, Moss, and more. Every note of these scents carry the sentiment of regard and respect. Although all gestures of gratitude and appreciation fall short in front of the magnitude of sacrifices made by our Heroes, J. will always proudly express its spirit of patriotism and pay tribute to the immense glory and courage of our heroes. The three newly released exclusive scents serve as a prime example of JDot's love for Pakistan.

(Visited 1 times, 1 visits today)



Disclaimer: We do not allow users to post content which is copyright and We take strict actions against the users who post infringement content on our website.Although we do not host any content, users post embed videos from youtube, facebook, Dailymotion and Vimeo and are moderated before posting but we still take strict action against the copyright videos posted.If you are an official representative of any company whose videos are posted illegally on our website or you think some video infringe the copyright then you can simply send an email to info@thecookbook.pk