Slow Roast Persian Lamb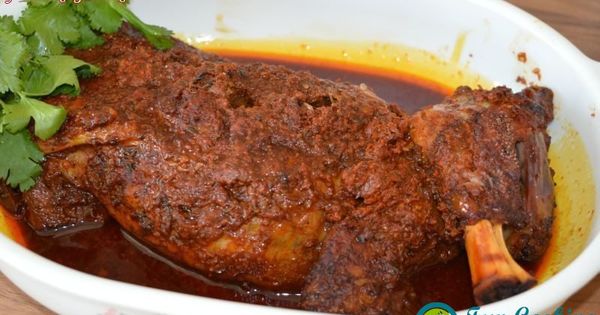 Ingredients
Lamb shoulder 1-1/2 kg
Pomegranate molasses ½ cup
Cumin powder 1 tsp
Lemon juice 2-3 tbsp
Olive oil 2 tbsp
Garlic paste 1 tsp
Onion 1 chopped
For Salad:
Pomegranate 1-1/3 cup
Parsley ½ cup
Watercress 1 cup
Red onion 1 small
Olive oil 1 tbsp
Bread slices for serving
Cooking Directions
Pre-heat oven on mark 3 or 160 C.
Spread roughly chopped onion on the casserole dish and put the lamb on it.
In a small bowl mix cumin, pomegranate molasses, lemon juice, olive oil and garlic paste mix well and pour over lamb.
Also add 1 cup water around the lamb meat.
Wrap foil to cover casserole dish and allow to bake till tenderize well that will take approx. 3 hour.
After 3 hours uncover dish and grill lamb for 20-25 minutes more for golden color.
Toss salad ingredients and serve with roasted lamb and bread slices.
(Visited 8,697 times, 1 visits today)



Disclaimer: We do not allow users to post content which is copyright and We take strict actions against the users who post infringement content on our website.Although we do not host any content, users post embed videos from youtube, facebook, Dailymotion and Vimeo and are moderated before posting but we still take strict action against the copyright videos posted.If you are an official representative of any company whose videos are posted illegally on our website or you think some video infringe the copyright then you can simply send an email to info@thecookbook.pk