Shan Foods Just Won an International Award at the Effie Awards 2018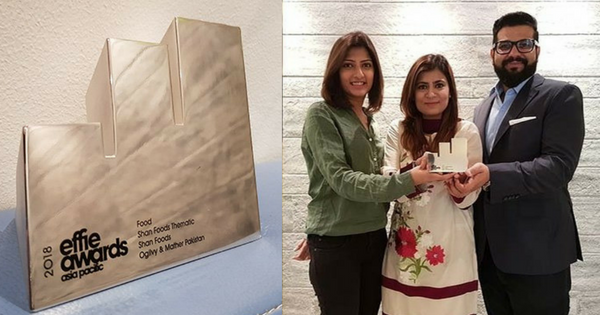 At the APAC Effie Awards 2018, a prestigious Silver Award in the food category has been won by Shan Foods for their #KhaanaWithParosi campaign.
The campaign was developed with Ogilvy Pakistan, which is one of the biggest advertising companies. The awards ceremony was held in Singapore.
The Effie Awards is not any ordinary awards but a very prominent worldwide marketing and communications awards. It has global recognition hence thousands of submissions from around the world are made. It is a great achievement for Pakistan food industry and of course Shan Foods itself.
Moreover, Shan Food's is Pakistan's' first indigenous brand to have achieved this award.
If you are not aware of #KhaanaWithParosi campaign it is the ad where a Chinese woman makes Biryani for her Pakistani Parosis (neighbours). The campaign was highly successful and people loved the message that had been delivered through it.

It not only showed how the importance of sharing with neighbours and building relationships but it also highlighted upon the Pak-China friendly relations.

Pakistanis should definitely celebrate this moment of success.

(Visited 2,559 times, 1 visits today)



Disclaimer: We do not allow users to post content which is copyright and We take strict actions against the users who post infringement content on our website.Although we do not host any content, users post embed videos from youtube, facebook, Dailymotion and Vimeo and are moderated before posting but we still take strict action against the copyright videos posted.If you are an official representative of any company whose videos are posted illegally on our website or you think some video infringe the copyright then you can simply send an email to info@thecookbook.pk