Quetta Masala Gosht Recipe in Urdu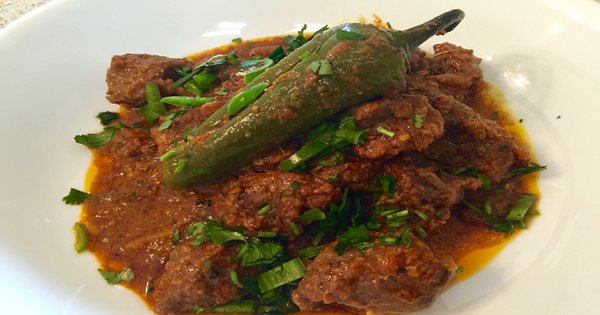 Ingredients
Beef slices 1 kg
Crushed black pepper 1 tbsp
Crushed cumin 1 tsp
Crushed red chili 2 tbsp
Finely chopped green chilies 5-6
Chopped ginger garlic 2 tbsp
Clarified butter or oil ½ cup
Lemon for garnish
For Qutta Gosht Masala
Cinnamon sticks 2-3
Cloves 4-5
Green cardamom (seeds) 3-4
Black cardamom (seeds) 4-5
Cooking Directions
For Qutta Masala :Take cinnamon sticks, cloves, green cardamom (seeds), black cardamom (seeds) roast on tawa pan and crush it and set aside.
Now take beef slices and flatten them with the help of kitchen hammer.
Take a cooking pan add beef flatten slices, crushed black pepper, crushed cumin, crushed red chilies, chopped green chilies, chopped ginger garlic then add 1-1/2 cup of water to tender the beef .
When it's almost tender add oil and stir fry on high flame and break the beef slice. Add qutta masala.
At last take it out in a serving bowl and garnish with lemon slices and serve it. Qutta masala gosht is ready.
(Visited 9,817 times, 1 visits today)



Disclaimer: We do not allow users to post content which is copyright and We take strict actions against the users who post infringement content on our website.Although we do not host any content, users post embed videos from youtube, facebook, Dailymotion and Vimeo and are moderated before posting but we still take strict action against the copyright videos posted.If you are an official representative of any company whose videos are posted illegally on our website or you think some video infringe the copyright then you can simply send an email to info@thecookbook.pk