Pineapple Cream Pastry Recipe in Urdu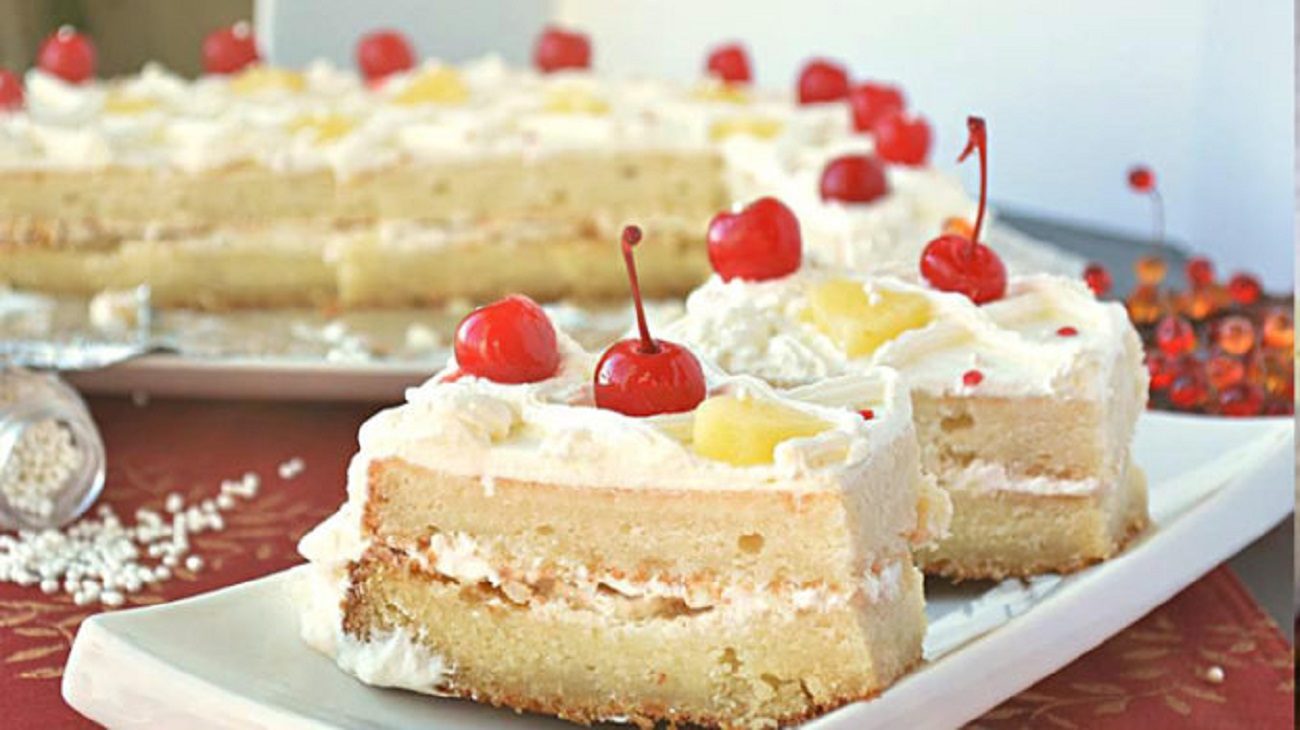 IngredientsFor Sponge:
4 ounce flour
4 ounce caster sugar
4 eggs
1 tsp baking powder
1 tsp vanilla essence
For Filling & Topping:
1 can pineapple tidbits
2 ounce icing sugar
12 ounce Olpers cream
1/2 cup pineapple syrup
Cherries as required
Cooking MethodFor Sponge:
Preheat oven to 180 degree C.
Lightly grease a 9×9 inch square cake pan.
Set aside.
In a large bowl, cream eggs with sugar.
When light and fluffy add vanilla essence.
Then Fold in the sieved flour and baking powder.
Pour this batter into the greased cake pan.
Place pan in preheated oven and bake for 25 minutes or until toothpick inserted comes out clean.
Remove from the oven and let it cool for 10 minutes.
For Filling & Topping:
Cut cakes into halves from center.
Pour pineapple syrup over it.
Spread Olpers cream and pineapple chunks on it.
Cover with second half of sponge.
Again pour pineapple syrup on it.
Top with Olpers cream and cherries.
Cut into small pastries.
Decorate with Olpers cream, pineapple cubes and cherries.
Pineapple Cream Pastry is ready now.
Serve chilled.
(Visited 6,923 times, 1 visits today)



Disclaimer: We do not allow users to post content which is copyright and We take strict actions against the users who post infringement content on our website.Although we do not host any content, users post embed videos from youtube, facebook, Dailymotion and Vimeo and are moderated before posting but we still take strict action against the copyright videos posted.If you are an official representative of any company whose videos are posted illegally on our website or you think some video infringe the copyright then you can simply send an email to info@thecookbook.pk