Pineapple Cream Cake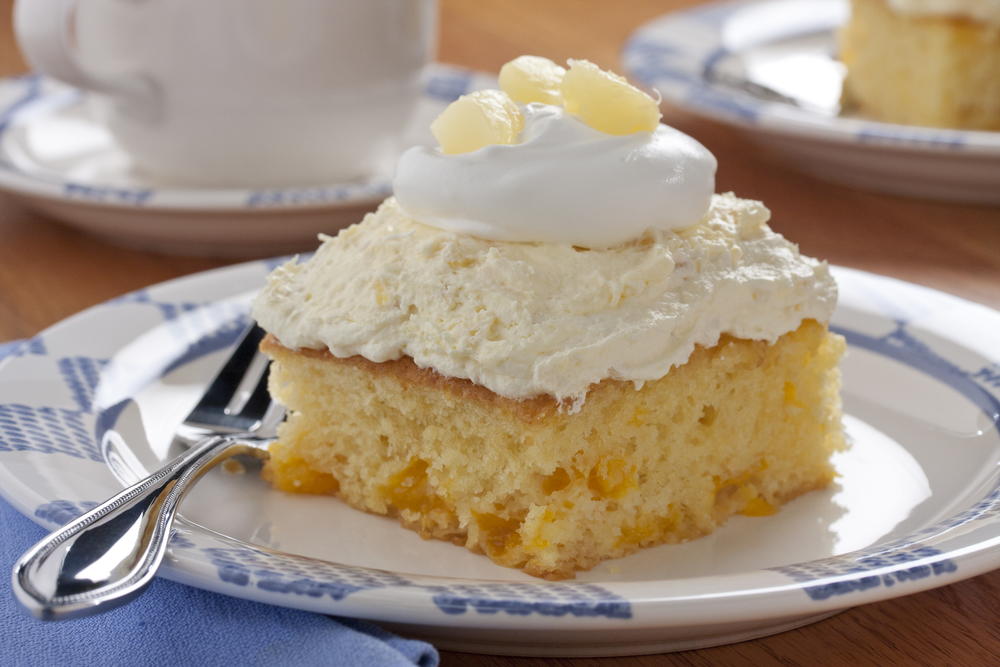 Ingredients
For Cake Sponge:
Flour 4 oz or 8 tbsp
Caster sugar 4 oz or 8 tbsp
Eggs 4 (large)
Baking powder ¾ tsp
Vanilla essence ½ tsp
Pineapple juice 1/2 cup
For Garnishing:
Olpers cream 400 gms
Pineapples 1 bowl
Icing sugar 5-6 tbsp
Cherries for garnishing
Cooking Directions
Preheat oven at mark 4 or 180 C also grease and line with parchment paper to 9″ round pan.

Separate egg whites and yolk beat egg white with electric beater till stiff peak forms.

Add essence in yolk, add half yolk into egg white bowl then add half sugar beat for a while, add remaining yolk and sugar beat more just to mix. Avoid to over beat.

Sift flour and baking powder trice.

Now add 2 tbsp flour and fold by spatula, add flour and fold in little quantity till incorporate.

Pour the batter in baking pan tap it to make evenly, bake for 20-25 minutes or skewer comes out clean when insert.

Remove from oven and allow to cool at room temprature cut horizontally.

Soak cake both parts with pineapple juice spread 4 tbsp of without sugar cream on lower part then cover with second part make sandwich.

Beat cream with electric beater and add 5 tbsp icing sugar in remaining cream now spread and cover cream on cake.

Decorate with extra cream, pineapple chunks and cherries refrigerate and serve chilled.
(Visited 4,357 times, 1 visits today)



Disclaimer: We do not allow users to post content which is copyright and We take strict actions against the users who post infringement content on our website.Although we do not host any content, users post embed videos from youtube, facebook, Dailymotion and Vimeo and are moderated before posting but we still take strict action against the copyright videos posted.If you are an official representative of any company whose videos are posted illegally on our website or you think some video infringe the copyright then you can simply send an email to info@thecookbook.pk