National's Dum K Pasanday (Steamed Undercut) Recipe in Urdu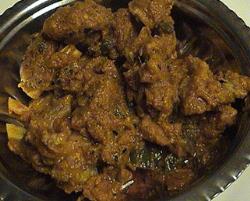 Ingredients
Beef fillets (thin pasanday) 1 kg
Raw papaya 2 tbsp
National Ginger paste 2 tbsp
National Salt 1/2 tsp
Poppy seeds (roasted) 3/4 cup or 75 gm
Fried onion brown 3/4 cup
Cumin seed (roasted) 1 tbsp
Brown cardamom seeds 2
Fenugreek seeds roasted 1/4 tsp
Black pepper whole 1 tsp
Yogurt 250 gm or 1 pao
Red chillies (roasted) 20-25
Oil 1/4 cup
Cooking Directions
Beat beef fillets with steak hammer.

Marinate with salt, raw papaya, ginger paste for atleast 2 hours or over night.

Wash poppy seed and slightly roast.

Also add cumin seed in it and rest more one minute remove from fire.

Roast fenugreek separately for 2 minutes on low flame.

Grind poppy seed, cumin seed, fenugreek, brown cardamom seeds, black pepper and whole chilies.

Heat oil and add marinate fillets.

Put ground spices and onion cook for 5 minutes.

Add whipped yogurt and cook on low flame for 30-40 minutes.

Fry well serve with sheer maal.
(Visited 5,875 times, 1 visits today)



Disclaimer: We do not allow users to post content which is copyright and We take strict actions against the users who post infringement content on our website.Although we do not host any content, users post embed videos from youtube, facebook, Dailymotion and Vimeo and are moderated before posting but we still take strict action against the copyright videos posted.If you are an official representative of any company whose videos are posted illegally on our website or you think some video infringe the copyright then you can simply send an email to info@thecookbook.pk