National's Daal Gosht (Lamb with Lentils) recipe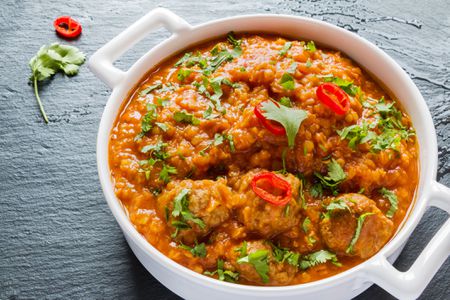 1 cup Toor daal
2 pounds (1 kilogram) of lamb (boneless and cubed)
3 tablespoons vegetable cooking oil
1 teaspoon cumin seeds
2 onions sliced
1 tablespoon ginger paste
2 tablespoons garlic paste
2 teaspoons National coriander powder
1 teaspoon cumin powder
1/2 teaspoon National turmeric powder
1 teaspoon National red chili powder
1 teaspoon national garam masala
4 large tomatoes chopped fine or 1 can of chopped tomatoes
Salt to taste
Juice of 1/2 a lime
Coriander leaves to garnish
Heat the cooking oil in a deep pan (on medium heat). When hot, add the cumin seeds. Fry till the spluttering stops.

Add the onions and fry (stirring often) till they begin to turn pale golden in color.

Now add the ginger and garlic pastes and fry for a minute.

Next, add the coriander, cumin, turmeric, red chili, and garam masala powder and fry till the oil separates from the masala. Stir often to prevent the masala from sticking to the vessel and burning.

Add the tomatoes and fry for two to three minutes, stirring often.

Now add the lamb, salt to taste, and stir well. Fry till browned.

Now add the lentils to the pot. Stir well and add three cups of water. If you are using a pressure cooker, this is the time to put on the lid and cook until you have heard three whistles. The daal/lentils should be done by now. Turn off the heat and allow the steam to release and open the pressure cooker.

 

If you are using a pot to cook the Daal Gosht, you need to let the daal/lentils come to a boil after adding the water and then simmer, cover the pot, and cook until the daal/lentils are soft. The end consistency of this dish needs to be like thick porridge, so keep checking to see if you need to add more water. Add hot water as required to maintain the right consistency until the daal/lentils are cooked.

 

Once cooked, add the lime juice, stir well, and garnish with coriander leaves.

 

Serve with plain boiled rice and a vegetable side dish.
(Visited 2,112 times, 1 visits today)



Disclaimer: We do not allow users to post content which is copyright and We take strict actions against the users who post infringement content on our website.Although we do not host any content, users post embed videos from youtube, facebook, Dailymotion and Vimeo and are moderated before posting but we still take strict action against the copyright videos posted.If you are an official representative of any company whose videos are posted illegally on our website or you think some video infringe the copyright then you can simply send an email to info@thecookbook.pk