Mixed Fruit Pancake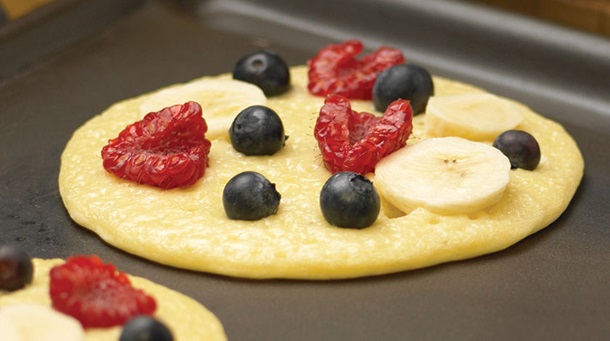 Ingredients
Flour 1 cup
Cocoa powder 3 tbsp
Egg 1
Milk 1 cup
Oil or butter 2 tsp
Olpers Cream 1 cup
Lemon juice 1 tsp
Sugar 2 tbsp
Mix fruit 1 cup
Salt to taste
Oil for frying

Cooking Directions

 

Sift flour and cocoa powder together in a bowl.

Then add egg and milk, mix well with hand beater.

Then mix in butter.

To make cream fruit, whisk cream in a bowl and add lemon juice and sugar to it. Mix till sugar is completely bended in.

Add fruits to the cream.

In a frying pan, heat 2 tbsp oil and pour a spoonful of pancake batter in the center and spread in round shape to make pancake.

Cook both sides.

Pour fruit cream on the side of the pancake and fold it.

Garnish with mint leaves and serve.
(Visited 10,309 times, 1 visits today)



Disclaimer: We do not allow users to post content which is copyright and We take strict actions against the users who post infringement content on our website.Although we do not host any content, users post embed videos from youtube, facebook, Dailymotion and Vimeo and are moderated before posting but we still take strict action against the copyright videos posted.If you are an official representative of any company whose videos are posted illegally on our website or you think some video infringe the copyright then you can simply send an email to info@thecookbook.pk