Mcflurry Ice Cream Cake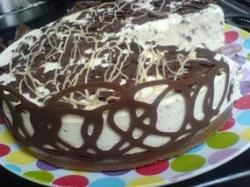 Ingredients
Hazelnuts roughly chopped 200 gm
Butter at room temperature 25 gm
Digestive biscuits crushed 1/2 pack
Caster sugar 2 tbsp
Flour 1 tbsp
Eggs 2
Cocoa powder 1, 1/2 tbsp
Lemon zest from 1 lemon
For Ice cream:
Ice cream of choice 500 ml
Oreo cookies crushed 6
Ferrero chocolate chopped 4
Olpers Cream 100 ml
Caster sugar 2 tbsp

Cooking Directions

 

Pre-heat the oven to 175°C.

Combine the hazelnuts with the eggs, cocoa, butter, sugar, crushed biscuits, flour and lemon zest.

Pour the mixture in a buttered spring form (about 24 cm wide).

Bake the cake in the middle of the oven for about 20 minutes.

Let the cake cool.

Remove the rim from the spring form and wash it up.

Then put the rim back on the spring form.

Whip the cream really thick with the sugar.

Add the softened ice cream and beat only till incorporated.

Gently add the chopped oreos and ferreros.

Pour the filling over the cake bottom.

Cover with plastic film and put the cake in the freezer.

Take out the cake from the freezer 20 minutes before serving and cover with grated white and dark chocolate.

Garnish the rim if you want to.

Cut with a knife previously dipped in hot water.
(Visited 8,739 times, 1 visits today)



Disclaimer: We do not allow users to post content which is copyright and We take strict actions against the users who post infringement content on our website.Although we do not host any content, users post embed videos from youtube, facebook, Dailymotion and Vimeo and are moderated before posting but we still take strict action against the copyright videos posted.If you are an official representative of any company whose videos are posted illegally on our website or you think some video infringe the copyright then you can simply send an email to info@thecookbook.pk