Marble Cheesecake Recipe in Urdu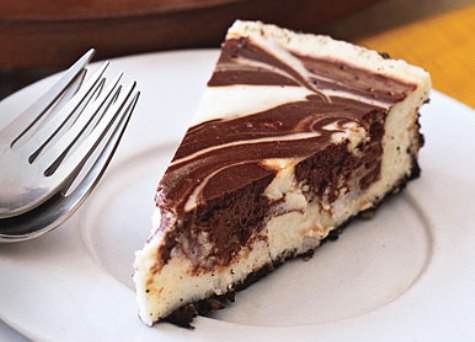 Ingredients
For Base:
Toasted oatmeal 2 cups
Toasted hazelnuts(chopped) 1/2 cup
Butter 4 tbsp
Dark chocolate 1 ounce
For Filling:
Cream cheese 12 ounces
Superfine sugar 7 tbsp
Unsweetened yogurt 3/4 cup
Olpers cream 1, 1/4 cups
Gelatin 1 envelope
Water 3 tbsp
Dark chocolate(melted) 6 ounces
White chocolate(melted) 6 ounces

Cooking Directions

 

Place the toasted oatmeal in a plastic bag and crush with a rolling pin.

Pour the crushed cereal into a mixing bowl and stir in the hazelnuts.

Melt the butter and chocolate together over a low heat and stir into the cereal mixture, stirring until well coated.

Using the bottom of a glass, press the mixture into the base and up the sides of an 8 inch spring form pan.

Beat together the cheese and sugar with a wooden spoon until smooth.

Beat in the yogurt.

Whip the cream until just holding its shape and fold into the mixture.

Sprinkle the gelatin over the water in a heatproof bowl and allow to become spongy.

Place over a pan of hot water and stir until dissolved. Stir into the mixture.

Divide the mixture in half and beat the dark chocolate into one half and the white chocolate into the other half.

Place alternate spoonfuls of mixtures on top of the cereal base.

Swirl the filling together with the tip of knife to give a marbled effect.

Level the top with a spatula.

Chill in the refrigerator until set.
(Visited 2,579 times, 1 visits today)



Disclaimer: We do not allow users to post content which is copyright and We take strict actions against the users who post infringement content on our website.Although we do not host any content, users post embed videos from youtube, facebook, Dailymotion and Vimeo and are moderated before posting but we still take strict action against the copyright videos posted.If you are an official representative of any company whose videos are posted illegally on our website or you think some video infringe the copyright then you can simply send an email to info@thecookbook.pk