Kesar Peach Rabdi (Saffron Peach Rabdi) Recipe in Urdu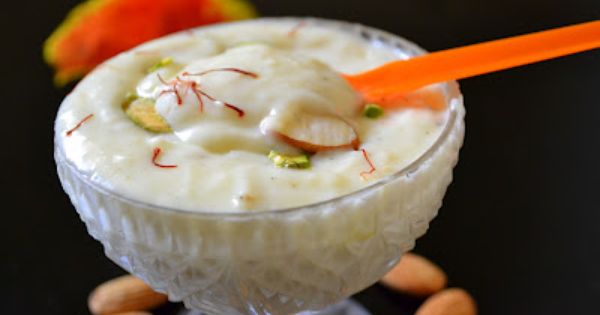 Ingredients
Full fat milk 1 liter
Peach 1 cup (finally chopped)
Sugar 5 tbsp
Water 1/4 cup
A generous pinch of saffron
Almond and saffron for garnish
Cooking Directions
Cook together peach, sugar and water till it gets like thick sauce. Stir occasionally. Set aside when ready.
Add milk in a wide heavy pan and boil it. When it starts boiling, simmer on low heat.
A layer of malai (cream) will form at the top of milk. Now, with the help of spatula keep collecting the malai on the sides of the pan.
Do this process till the milk is reduced to 1/3, this process will take 3-4 hours. Keep stirring milk to avoid burning.
After that scrap the collected malai from the sides. Add it back to the milk along with saffron.
Simmer for another 5 minutes and remove from stove. Now, add cooked peach sugar mixture and mix.
Garnish with slivered almonds and saffron. Cool in refrigerate for few hours before serving.


Disclaimer: We do not allow users to post content which is copyright and We take strict actions against the users who post infringement content on our website.Although we do not host any content, users post embed videos from youtube, facebook, Dailymotion and Vimeo and are moderated before posting but we still take strict action against the copyright videos posted.If you are an official representative of any company whose videos are posted illegally on our website or you think some video infringe the copyright then you can simply send an email to info@thecookbook.pk