Green Mutton (Haryali Mutton)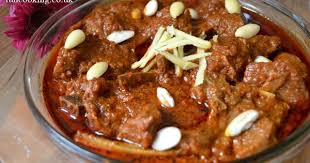 Ingredients
Mutton/lamb meat 1 kg (small pieces)
Salt 1 tsp
Red chili powder 1 tsp
Onion 1 cup (fried)
Green chilies 6 (sliced)
Mint leaves ½ cup
Fresh coriander leaves ½ cup (chopped)
Green onion ½ cup (sliced)
Yogurt 1 cup
Ginger garlic paste 2 tbsp
Turmeric ½ tsp
Coriander powder ½ tsp
Oil ½ cup
Whole green chilies 4
Cooking Directions
Wash the meat.
Add meat, salt and red chili powder in cooking pan and cook it on slow heat. (No need to add water.)
Blend together fried onion, green chilies sliced, green coriander, mint, green onion and yogurt.
When meat own water dries, add blend mixture in meat. Also add ginger garlic paste, turmeric, coriander powder and oil.
Now cook it on slow heat until meat tender and oil separates.
Add whole green chilies and simmer for 5 minutes on slow heat. Serve warm.


Disclaimer: We do not allow users to post content which is copyright and We take strict actions against the users who post infringement content on our website.Although we do not host any content, users post embed videos from youtube, facebook, Dailymotion and Vimeo and are moderated before posting but we still take strict action against the copyright videos posted.If you are an official representative of any company whose videos are posted illegally on our website or you think some video infringe the copyright then you can simply send an email to info@thecookbook.pk