Death by Chocolate Cake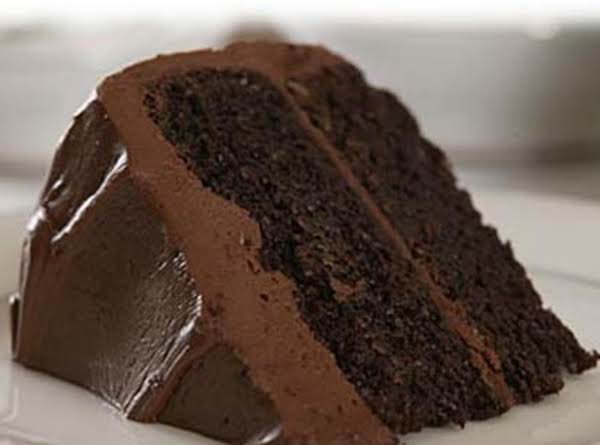 Ingredients
Chocolate 8 ounces
Eggs 4
Salt pinch
Flour 1 cup
Sour cream 1/3 cup
Butter 2/3 cup
Sugar ½ cup
Brown sugar ½ cup
Vanilla essence 1 tsp
Cocoa powder 3 tbsp
Baking powder 1 ½ tsp
For Ganache:
Chocolate 16 ounces
Olpers Cream 1 cup
Strawberry jam for brushing the cake

Cooking Directions

 

Pre-heat oven at 180 degree C.

Grease 9 inch spring foam pan.

Melt chocolate and butter in a double boiler.

Keep in fridge until cool.

Beat eggs with white and brown sugar until fluffy.

Add melted chocolate and butter mixture.

Sieve together flour, cocoa powder and baking powder.

Add this mixture to the chocolate and egg mixture with sour cream, salt and vanilla essence.

Mix well on low speed for few minutes.

Pour batter into pan and bake for 45 minutes.

Remove and cool cake completely.

For Ganache:

Put chocolate and cream in a pan.

Cook until chocolate melts, remove and cool.

For Assemble the Cake:

Cut the cake into half horizontally.

Put strawberry jam over the bottom layer.

Add a layer of ganache.

Now place the other layer of cake on top of ganache.

Glazed the cake by coating the cake with ganache using metal spatula by moving spatula middle to edge and the sides.

Coat evenly and slowly, put the cake into the fridge for 1 hour to harden the frosting.

Decorate top of cake with chocolate curls.
(Visited 5,653 times, 1 visits today)



Disclaimer: We do not allow users to post content which is copyright and We take strict actions against the users who post infringement content on our website.Although we do not host any content, users post embed videos from youtube, facebook, Dailymotion and Vimeo and are moderated before posting but we still take strict action against the copyright videos posted.If you are an official representative of any company whose videos are posted illegally on our website or you think some video infringe the copyright then you can simply send an email to info@thecookbook.pk