Danish Cinnamon Snails Recipe in Urdu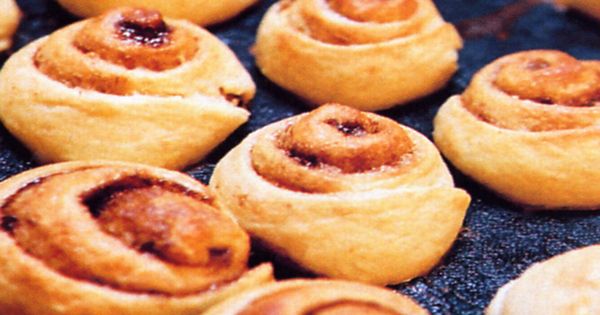 Ingredients
For Dough:
Plain flour 4 cup
Warm milk 1 cup
Yeast 2 tsp
Butter 1/2 cup
Eggs 2
Cardamom powder 1/2 tsp
Sugar 4 tsp
Salt ¼ tsp
For Filling:
Butter 2/3 cup (softened)
Sugar ½ cup
Cinnamon powder 4 tsp
Cooking Directions
Preheat an oven to 425 degrees F (220 degrees C).
Line a baking sheet with parchment paper.
For Filling: Combine butter and sugar then mix in cinnamon powder.
For Dough: Mix warm milk and yeast in a bowl then add in butter, eggs, cardamom powder, sugar, salt and 3 1/2 cups of the flour.
Mix with help of wooden spoon.
If dough sticks with hand, add remaining flour and mix well.
Cover bowl and allow dough rising about 40 minutes.
Transfer the dough to a floured surface and knead it until it's playable.
Divide the dough in two sections; roll each section into a rectangle shape about 1/2 inches thick.
Spread half filling on each rectangle.
Stack one layer of dough and filling on top of the other rectangle of dough, filling-side up.
Roll it up nicely like swiss roll.
Cut out 1 inch pieces and put on baking sheet on a distance.
Let them rest about 20 minutes.
Bake the cinnamon snails in the preheated oven about 10 minutes or until golden brown.
(Visited 8,803 times, 2 visits today)



Disclaimer: We do not allow users to post content which is copyright and We take strict actions against the users who post infringement content on our website.Although we do not host any content, users post embed videos from youtube, facebook, Dailymotion and Vimeo and are moderated before posting but we still take strict action against the copyright videos posted.If you are an official representative of any company whose videos are posted illegally on our website or you think some video infringe the copyright then you can simply send an email to info@thecookbook.pk