Chocolate Roulade Recipe in Urdu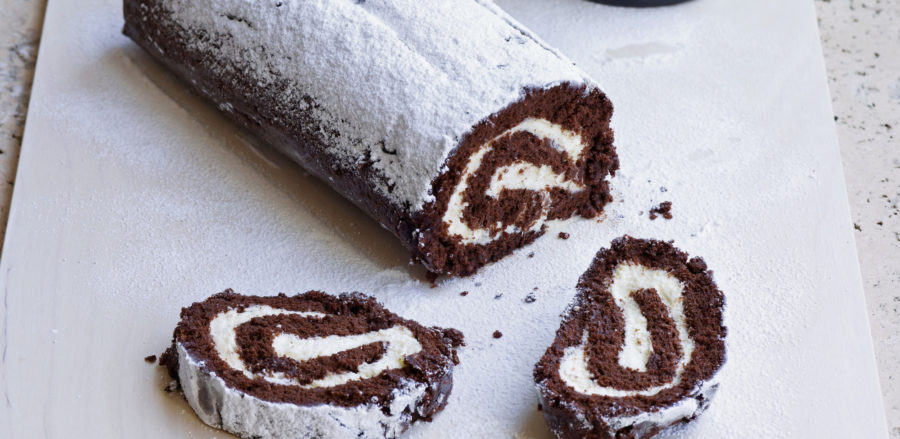 Ingredients
Roulade:
 
Dark chocolate 5 1/2 ounces
Water 2 tbsp
Eggs 6
Superfine sugar 3/4 cup
All purpose flour 1/4 cup
Unsweetened cocoa 1 tbsp
 
Filling:
 
Olpers cream 1 1/4 cups
Strawberries(sliced) 2 3/4 ounces
 
To decorate:
 
Confectioners sugar
Chocolate leaves

Cooking Directions

 

Line a 15X10 inch jelly roll pan with baking parchment.

To make the roulade, melt the chocolate in the water, stirring constantly.

Let it cool slightly.

Place the eggs and sugar in a bowl and beat for 10 minutes, or until the mixture is pale and foamy and the beater leaves a trail when lifted.

Beat in the melted chocolate in a thin stream.

Sift the flour and cocoa together and fold into the mixture.

Pour into the pan and level the top.

Bake in a preheated oven at 400F for 12 minutes.

Dust a sheet of baking parchment with a little confectioners sugar.

Turn out the roulade and remove the lining paper.

Roll up the rouldade with the fresh parchment inside.

Place on a wire rack, cover with a damp dish cloth, and let cool.

Beat the cream until just holding its shape.

Unroll the roulade, remove the paper, and scatter the fruit over it.

Spread three quarters of the cream over the roulade and re-roll.

Dust with confectioners sugar.

Place the roulade on your serving plate.

Pipe the rest of the cream down the center and decorate with chocolate leaves.

To make chocolate leaves, wash some rose or holly leaves and pat dry with paper towles.

Melt some chocolate and brush it over the leaves.

Set aside to harden.

Repeat with 2-3 layers of chocolate.

Peel the leaves away from the chocolate and use for garnishing.


Disclaimer: We do not allow users to post content which is copyright and We take strict actions against the users who post infringement content on our website.Although we do not host any content, users post embed videos from youtube, facebook, Dailymotion and Vimeo and are moderated before posting but we still take strict action against the copyright videos posted.If you are an official representative of any company whose videos are posted illegally on our website or you think some video infringe the copyright then you can simply send an email to info@thecookbook.pk