Chocolate Mint Cake Recipe in Urdu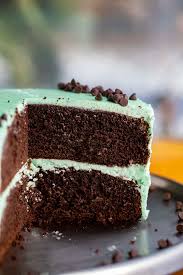 Ingredients
Eggs 3
Sugar 75 g
Plain four 60 g
Coco powder 15 g
Olpers cream 1 pound
Chocolate sauce
Oil or Ghee (to grease)
Pepper mint essence 2-3 drops
Green food color few drops
Icing sugar 4 tbsp

Cooking Directions

 

 

Put 3 eggs in a bowl, add 75 g sugar, and stiffly beat them.

Take another bowl, put 60 g plain flour & 15 g coco powder, mix gently.

Then add the beaten eggs & sugar in the above mixture.

Then deeply fold the mixture with spatula lightly in one direction.

Don't do over mixing.

Take a 9 inches round tin, grease it with oil (ghee).

Dust the tin with plain flour & pour the mixture in this prepared tin. 

Now put that tin in oven for 20-25 minutes to bake.

After baking, remove the cake from tin & let it cool.

Take 1 pound fresh cream & add 2, 3 drops of pepper mint essence.

Add few drops of green color in the cream & mint mix and beat.

During beating add 4 tbsp of icing sugar.  The cream is ready for use.

Now take cake and cut it from between/the middle in half.

Don't cut straight away, it will cause non-similar pieces.

Cut it slowly & keep moving the knife around the cake in circular fashion.

Brush the surface of lower piece of cake with milk.

Paste the cream in between two pieces of cake.

Then brush the upper surface of upper piece of cake with milk.

Paste the cream over here and on sides too.

Beat the remaining cream for decoration purposes.

 

 

Decorate the cake as your desire.
(Visited 9,852 times, 1 visits today)



Disclaimer: We do not allow users to post content which is copyright and We take strict actions against the users who post infringement content on our website.Although we do not host any content, users post embed videos from youtube, facebook, Dailymotion and Vimeo and are moderated before posting but we still take strict action against the copyright videos posted.If you are an official representative of any company whose videos are posted illegally on our website or you think some video infringe the copyright then you can simply send an email to info@thecookbook.pk