Chocolate Cupcakes with White Chocolate Frosting Recipe in Urdu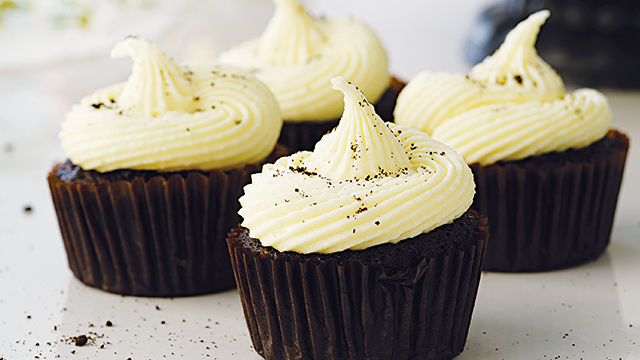 Ingredients
Butter(softened) 1/2 cup
Superfine sugar 7 tbsp
Eggs(beaten) 2
Milk 2 tbsp
Dark chocolate chips 1/3 cup
Self rising flour 1, 1/4 cups
Unsweetened cocoa 1/4 cup
For Frosting:
White chocolate 8 ounces
Olpers Cream 2 tbsp

Cooking Directions

 

Line an 18 hole muffin pan with individual paper cups.

Beat together the butter and sugar until light and smooth.

Gradually add the eggs, beating well after each addition.

Add a little of the flour if the mixture begins to curdle.

Add the milk, then fold in the chocolate chips.

Sift together the flour and unsweetened cocoa and fold into the mixture with a metal spoon or spatula.

Divide the mixture equally between the paper cups and level the tops.

Bake in a preheated oven at 350F for 20 minutes, or until well risen and springy to the touch.

Transfer the cupcakes to a wire rack to cool.

For frosting: melt the chocolate, then let cool slightly.

Beat the cream cheese until softened and beat in the chocolate.

Spread a little frosting over each cake and chill for 1 hour.


Disclaimer: We do not allow users to post content which is copyright and We take strict actions against the users who post infringement content on our website.Although we do not host any content, users post embed videos from youtube, facebook, Dailymotion and Vimeo and are moderated before posting but we still take strict action against the copyright videos posted.If you are an official representative of any company whose videos are posted illegally on our website or you think some video infringe the copyright then you can simply send an email to info@thecookbook.pk