Chocolate cup cakes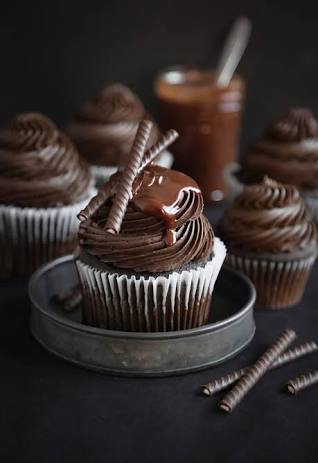 Ingredients : 
Butter 200gm 
Semi sweet melted choclate 120gm
Dark coco powder 80gm
All purpose flour 200gm 
Baking soda 1 tsp
Baking powder 1-1/2 tsp salt pinch 
Eggs 4
Caster sugar 200gm 
Brown sugar 100gm 
Vanilla essences 1 tsp 
Warm milk 250 ml
Method :preheat oven 180 ° c 
Take in a bowl 
Add all dry ingredients and sift them.
Bring a bowl add all liquid ingredients  (not choclate) mix it add dry ingredients mix it well with the help of whisk. 
Add melted choclate mix it.
Pour in cup cakes tray bake it 15 to 20 min in 180 ° c


Disclaimer: We do not allow users to post content which is copyright and We take strict actions against the users who post infringement content on our website.Although we do not host any content, users post embed videos from youtube, facebook, Dailymotion and Vimeo and are moderated before posting but we still take strict action against the copyright videos posted.If you are an official representative of any company whose videos are posted illegally on our website or you think some video infringe the copyright then you can simply send an email to info@thecookbook.pk