Chinese Fried Rice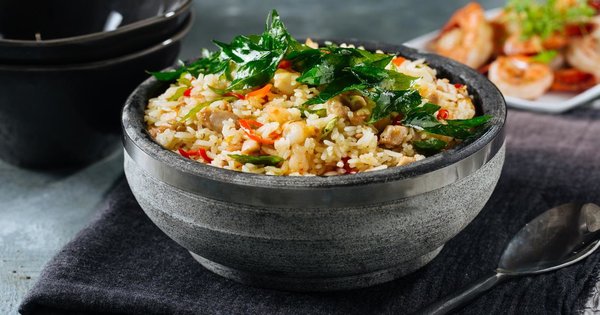 Ingredients
Chicken 250g (thinly sliced)
Vegetable oil 2 tbsp
Soya sauce 2 tsp
Salt to taste
Eggs 2
Onion 1 (diced)
Red bell pepper 1 (chopped)
Peas ½ cup (boiled)
Carrot ½ cup (finely chopped)
Boiled rice 2 cups
Green onion 2 (sliced)
Oyster sauce 1 tsp
Cooking Directions
Marinade chicken with 2 drops of oil, ½ tsp soya sauce and to taste salt.
Heat a non stick pan and add eggs. Cook until done. Break cooked eggs into pieces and transfer in a plate.
Heat 1 tbsp oil in a large skillet and fry onion until translucent. Remove from pan.
Add remaining oil in skillet; add chicken and cook until half done then add bell pepper, peas and carrot. Cook until chicken tender completely and vegetables starting to get tender.
Now transfer boiled rice, green onion, oyster sauce and remaining soya sauce. Stir to incorporate.
Add cooked onion and scrambled eggs. Toss gently. When everything mix completely serve immediately.
You can adjust seasoning according to your taste after adding rice.
(Visited 5,211 times, 1 visits today)



Disclaimer: We do not allow users to post content which is copyright and We take strict actions against the users who post infringement content on our website.Although we do not host any content, users post embed videos from youtube, facebook, Dailymotion and Vimeo and are moderated before posting but we still take strict action against the copyright videos posted.If you are an official representative of any company whose videos are posted illegally on our website or you think some video infringe the copyright then you can simply send an email to info@thecookbook.pk