Black Currant Cheese Cake Recipe in Urdu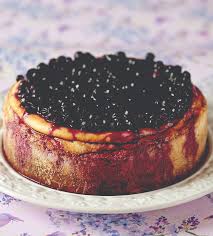 Ingredients
For Base:
Crushed biscuit 2 cups
Butter (melted) 4 tbsp
For Filling:
Egg white 3
Caster sugar 1/2 cup
Gelatin powder 1-1/2 tbsp
Water 1/4 cup
Olpers cream  2 cups
Yogurt (tetra pack) 1/2 kg
Black currant jelly 2 packets

Cooking Directions

 

 

For Base: Mix butter with crushed biscuit and fill this mixture in greased 9 inch lower bottom pan.

 

 

For Filling: whip egg whites and place aside.

 

 

Whip fresh cream and caster sugar. Add yogurt too and whip.

 

 

Mix gelatin powder in water, pour in the above mixture and whip.

 

 

Add egg white in this mixture and carefully fold it.

 

 

Mix black currant jelly mixture too in the above mixture.

 

 

Pour this mixture over the biscuits base and place in the fridge till its completely set.

 

 

For Toping: mix second packet of black currant jelly in 3/4 cup of water.

 

 

Pour it over the cake when its little cold.

 

 

 When the cake is completely set than decorate it with fresh cream and serve.


Disclaimer: We do not allow users to post content which is copyright and We take strict actions against the users who post infringement content on our website.Although we do not host any content, users post embed videos from youtube, facebook, Dailymotion and Vimeo and are moderated before posting but we still take strict action against the copyright videos posted.If you are an official representative of any company whose videos are posted illegally on our website or you think some video infringe the copyright then you can simply send an email to info@thecookbook.pk