"Lahore, Lahore Ay"! 
One often comes across this popular phrase  in Lahore as well as many other places in Pakistan. The possible reason behind it being the friendly, open-hearted and welcoming nature of Lahoris. But the most of all with Food. Food is probably the first love of Lahori's. The people who are born in Lahore know it very well that Lahore is the Foodistan of Pakistan
Lahore is not just the heart of Punjab but also a center of attention of some of the most authentic desi dishes one can ever find in Pakistan .Lahoris are known for their Hospitality and so it should not come as a surprise when according to local tradition, you can win heart of people through delicious food."Lahore ki Shaan,Mazedar Pakwan",Is just an another way of describing the food of Lahore
Here is a guide to all the food lovers of Pakistan who visit Lahore and for those who want to fall in love with food.
Katlama:
It is mainly  known as deep fried pizza paratha, It is one of the most popular street-foods of Lahore. A large orange-coloured roti topped with various masalas and lentils attract food lovers across the city.


Desi murgh channay by Ghulam Rasool :
A Lahorite among other traits has to be a "naan chanay" lover and no naan chanay lover will be unfamiliar with the name of Ghulam Rasool. Hiding in that place for decades and yet people tend to find him and visit for the food. His location can easily be located by the name of  Neela Gumband

Amritsari Hareesa:
located at Nisbat Road close to Laxami Chowk is the finest Hareesa/Haleem you will ever eat in Lahore. While this is something that can be had for breakfast or lunch, it is so popular locally that it is better to head out early in the day since it usually ends before dinner.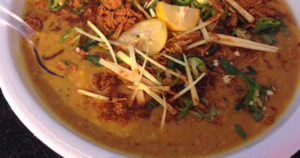 Bashir Darul Mahi
This place provides Lahori with the mouthwatering delights that are there crispy fishes. This is one of the most crowded places in winters because nothing is better than having some hot fried fish during the chilly winter nights.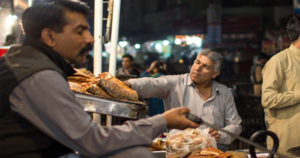 Butt Karahi
Lahori Butt Chicken Karahi is the yummiest traditional Punjabi karahi your taste buds will ever experience. Located at Laxmi Chowk, it's one of the must-go karahi spots in town. The karahi, which is known for being cooked in butter, is served with fresh Tandoori naan sprinkled with sesame seeds.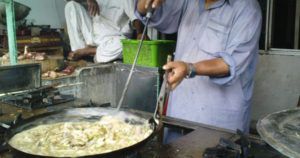 NaseerBongPaye
Naseer bong paye are best for all the nihari and paye lovers. Punjabis specially Lahories would love to eat bong paye in breakfast and whenever given the chance. People from different cities come to Lahore and enjoy its famous paye.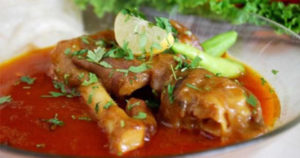 Fiqqay ki lassi

The name might sound funny to you but it is familiar to almost every Lahori. Chacha feeqa has a super refreshing lassi in gawalmandi that people come from places to drink. It's a must have if you've ever been to Lahore. It is famous for its delicious Perrey vali Lassi. While both sweet and saltish lassis are available.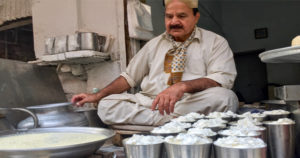 NanKathai
Leaving Lahore without trying the Khalifa Nan khatai is an insult to Lahore and its food industry.Khalifa is famous not only all over Pakistan but also abroad because of its Nan khatai.People visiting Lahore especially go to Khalifa bakery to get the sweets as a token of appreciation, tradition and a souvenir.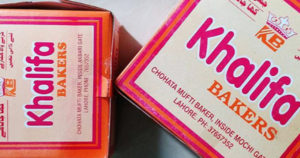 Pajjay K paye:
Paye is one of Lahore's favorite breakfasts. Additionally, Phajjay kay Paye located near Taxali Gate, is a house of taste itself. Paye are served with oven fresh Naan or Kulcha.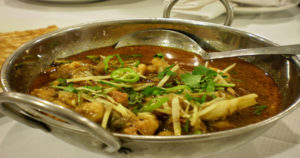 Lahori Charga
Marinated with special masalas– this rich in flavor and juicy chatkharaydaar dish is bound to make your weekend special. Gawalmandi's food street is considered as the best places to head out to if you are looking to have chargha. It is served with naan, paratha or puri.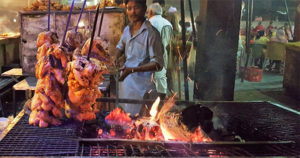 Muhammadi Nihari
Muhammadi Nihari located at Mozang offers one of the most favourite dishes of Lahore. Much like Hareesa, Nihari is something one can have for breakfast or lunch. Its thick gravy cooked with mutton or beef, garnished with green chilies, coriander, ginger, and lemon served with Sheermal, Roti or Naan.

Yousuf Falooda
And your weekend must not end without a dessert.Yousaf Falooda located at Old Anarkali has made its place among one of the yummiest dessert places of Lahore. The falooda is made with Rabbri and Kulfi, which sets it apart from all other desserts.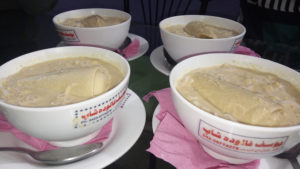 Sharaqpur gulabjamun
Gulabjamun is the most popular sweet in the subcontinent,
Haji Hakim's Shop in Sharaqpur Sharif is highly popular in lahore due to his tasteful and delicious Gulab Jamun, which are served in "Kujja" (Clay pot) traditionally. The gulab jamun of Sharakpur are the most famous with a history of providing a quality product.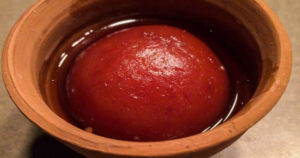 Lahore is famous for its two major things, one is city of gardens and the second is taste of Lahori Tarka Desi Food. The tourists from all around the world are eager to visit Lahore and explore the unique culture of Lahore So If you are in Lahore, come and enjoy what Food Street has to offer. Don't miss out