5 Food that makes you Happy!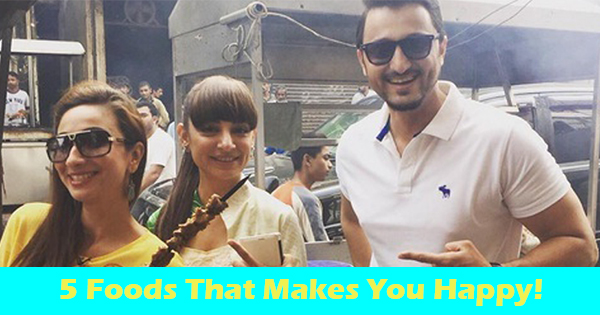 Walnuts:
An ounce of walnuts has four grams of protein (which fills you up and helps keep blood-sugar levels steady) and two grams of fiber. They have good source of high level magnesium. Walnuts are cell-protecting Antioxidants and are low in carbohydrate, which means they won't cause spike in sugar and insulin. If you don't want to get depressed and makes your mind active then have walnuts.
Kale:
Kale have excellent source of vitamin A,B,C and K. It has magnesium and have a good source of fiber. It is high in copper, a trace mineral that works to support many vital functions. It is one of the healthiest foods on the planet.
Coffee:
Coffee is a magic bean when it comes to mood lifting. The caffeine in coffee can boost mental focus and alertness. Coffee has about 150 mg of caffeine per cup.  Limit consumption to about 300 mg caffeine per day and consume it once a day, at the time you want to be most alert.
Dark Chocolate:
Dark chocolate is one of the biggest mood boosters. While eating dark chocolate you get pleasure and have high percentage of cocoa to which boost your mood.
Salmon:
Here we see the recurrence of Omega-3 fatty acids and just how much good they can do for our overall health. This time, we see that regular consumption of salmon, about 2-3 times a week, can help to make us feel happier and of course maintain good health.
So have them and be happy!



Disclaimer: We do not allow users to post content which is copyright and We take strict actions against the users who post infringement content on our website.Although we do not host any content, users post embed videos from youtube, facebook, Dailymotion and Vimeo and are moderated before posting but we still take strict action against the copyright videos posted.If you are an official representative of any company whose videos are posted illegally on our website or you think some video infringe the copyright then you can simply send an email to info@thecookbook.pk