10 Vegetables That Can Be Best Substitute for Meat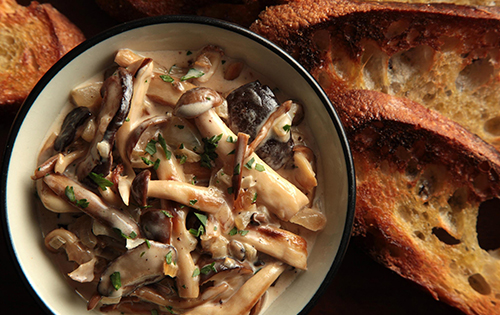 The good news is that you are trying to eat veg! The bad news is that you're thinking how much you will miss all your old favorite foods. Well, guess what? The better news is that going vegetarian doesn't mean you have to sacrifice the dishes you love most. Pretty much anything you used to eat can be made with plant-based ingredients – even really meaty dishes like burgers, meatballs, and Buffalo wings. It just takes a little imagination, a bit of creativity, and the benefit of some tips and guidelines to help you create delicious vegan versions of those recipes. Soon you will be making delicious, satisfying meals that will satisfy your cravings, and before you know it, you will realize you don't even miss the meat at all. Get your veg on with these 10 substitutes:
1.  Mushrooms:
When you want that meaty taste, that umami, mushrooms are the way to go. Their flavor is rich, earthy, and meaty, especially cremini or Portobello mushrooms. They are healthy and filling and can replace meat in any recipe. My favorite way to eat mushrooms is to saute them in vegan butter and add thyme, black pepper, and balsamic vinegar. Then I serve them over polenta unless I'm piling them up on a crispy roll to make a French Dip sandwich. Try mushrooms in this Mushroom Stroganoff or as a vegan "Lamb" Burger.
2.  Jackfruit:
If you have not yet tried jackfruit, you need to go out and get some. Technically, jackfruit is a fruit but incredibly, it can stand in for meat in savory dishes. You can buy it raw or already cut up in a can. Jackfruit has a very slight sweet taste but not so much that you can't use it to make a decadent, satisfying Philly Cheesesteak. Jackfruit is perfect for barbecue sandwiches, stir-fries, or any dish that uses beef, chicken, or Mutton.
3.  Lentils:
Lentils have always been a stand-in for meat since the beginning of veganism. Lentils are hearty and can replace ground beef easily. Lentils come in a variety of colors such as green, red, brown, and black. They cook up quickly, are inexpensive, and a small amount goes a long way. Definite recipes to try are Red Lentil Burgers with Kale Pesto, Lentil Meatballs, Double Decker Lentil Tacos, and South Indian Lentil Stew.
4.  Tofu, Tempeh, Seitan, and TVP:
You may not think of tofu or tempeh as vegetables, but they are plant-based and made from soybeans. TVP, or texturized vegetable protein, is also made from soy. Seitan is made from wheat gluten. The meat in any recipe can be replaced with one of these plant-based options. Tofu makes the perfect swap-out for chicken whether you want Crispy Tofu Nuggets, Moroccan Cutlets in a Lemon-Olive Sauce, or chunks for Chinese food like Kung Pao Tofu. Tempeh is wonderful for fish dishes because it has a flaky texture. Try it in "Crab" Cakes or to make Breaded "Fish" Fillets. It can also be ground up to act as ground beef for Tempeh Meatballs or tacos. TVP comes in all shapes and sizes and it can replace any meat including ground beef. Try it in this Chik'n Salad with Cranberries and Pistachios or in Tacos Sin Carne. Seitan can be flavored to taste exactly like beef or mutton. You won't believe the decadence you will get in a plate of Balsamic BBQ Seitan Ribs or a thick, juicy Seitan Steak in Beurre Blanc Sauce.
 5.  Eggplant:
When anyone goes veg, eggplant is probably the first vegetable that comes to mind, but you can do so much more with it than just make parmigiana. Eggplant has a rich, meaty taste and it's very versatile. If you think you're not a fan of eggplant, try it in these Eggplant Burgers and you will change your mind. Other delicious ways to eat eggplant include Vegan Mozzarella-Stuffed Eggplant Meatballs, crispy Eggplant Fries with Marinara Dipping Sauce, and spiralized Eggplant Noodles.
6.  Beans and Legumes:
Beans and legumes are amazing. They are inexpensive, healthy, filling, and there are so many to choose from: black beans, kidney beans, pinto beans, aduki beans, chickpeas and black-eyed peas, to name just a few. Beans make for hearty soups, stews, and chilis. How about a White Bean and Kale Soup or a Tamale-Inspired Bowl with Beans? Beans and legumes can replace the meat to make incredible Hoisin Black Bean Burgers, Black-Eyed Pea Italian Sausages, or Chickpea "Tuna" Salad.
 7.  Cauliflower:
Right now I bet you're thinking, "How can cauliflower replace meat? It's so white and bland." Well, it can. When you season it and cook it up right, cauliflower can be the star of any dish. I like to use cauliflower to replace the chicken in Asian dishes like Cauliflower Manchurian and even Buffalo wings. You can slice the cauliflower into steaks and make an incredible Cauliflower Piccata. You can even make a pizza crust out of cauliflower. See? Cauliflower doesn't seem so boring anymore, does it?
Beets:
Beets are nature's candy. They are sweet and delicious and perfect for salads, but they have another side to them. Beets are also earthy and work well in savory dishes especially when roasted as in this Sesame Roasted Beets and Greens Dish. Amaze your guests with a beautiful platter of Beet Carpaccio and then treat them to Roasted Beet Burgers with Cumin-Scented Ketchup. Finish the meal with Beetroot Chocolate Frosted Cupcakes.
9.  Nuts:
Technically, nuts are not vegetables but they can be used to make vegan cheese and to replace meat in your cooking. Nuts can be incredibly "meaty" and can make a hearty and rich "meat" loaf for dinner. Nuts are often added to vegan burgers for added "meatiness." Try these Kidney Bean –Walnut Burgers with Mississippi Comeback Sauce.
10.              Potatoes:
Potatoes are not just for side dishes. They can be the main ingredient in so many dishes. Whether you roast them, boil them, bake them, mash them, or fry them, potatoes are always a favorite. Start your meal with a Creamy Potato and Cauliflower Soup.  Potato Samosas with Coconut-Mint Chutney are spicy and delicious. Add potatoes to your burgers like in this Moussaka Burger with Béchamel Cheese Sauce and this Spicy Potato Cauliflower Burger. Don't forget potatoes when it comes to dessert – that's right. You will be blown away by this Chocolate Potato Cake.

As you can see, when it comes to replacing meat in your meals, your options are practically limitless. Stop thinking of vegetables as side dishes and move them to the front of your plate. With all the hearty, "meaty" recipes you can create, there is no way you will miss the meat.

(Visited 2,582 times, 1 visits today)



Disclaimer: We do not allow users to post content which is copyright and We take strict actions against the users who post infringement content on our website.Although we do not host any content, users post embed videos from youtube, facebook, Dailymotion and Vimeo and are moderated before posting but we still take strict action against the copyright videos posted.If you are an official representative of any company whose videos are posted illegally on our website or you think some video infringe the copyright then you can simply send an email to info@thecookbook.pk