10 Type of Eaters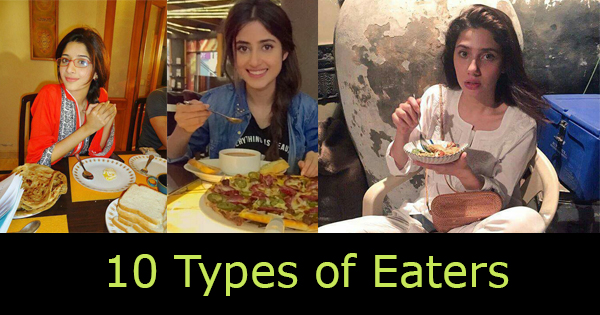 "Nom Nom Nom"
"Ssssshhhhh its annoying".
Well, much like fashion, everyone has his or her own personal style when it comes to Eating Habits. Some stay cautious while ordering things while other can eat all they can. Here are some type of eaters you find in day to day life
This type of eater usually eats very slowly and makes different facial expressions while chewing food. It doesn't mean they eat less sometimes the Slow eater eat the most but slowly.  As there is a saying slow and steady wins the race. Here we say Slow and Steady eat the Most.
Phone in hands taking a perfect shot with smoke and perfect light. The Food instagrammer puts everything they eat or sometime they don't even eat what they post. Here I need to just put some of my feelings in Urdu as "Ghar mai chahay Teenday banay ho" but they'll post with Perfect hashtags and perfect caption which says "Baby pumpkin with meat and fried rice".
Meat ? yes . Vegs ? Yes. Chicken? Yes. Brain? Yes. Wings? Yes. Everything which is edible is a priority for them. They can eat whatever you can think is edible. They don't Eat to live but they live to Eat.
If it's a Hot coffee or Tea ? Or if it's a chilled Cold drink this person can eat as fast as you can think of. You are there just waiting for your coffee to get at a temperature where you can gulp it and the Fast and the Furious eater can gulp atleast 2 Cookies and 1 cup of coffee in that time. Can't wait because life is too short
"Namak zyada hai ! "  , "It's Undercooked" , "Piyaz tou kaat letay sath mai" , and all the critics you hear from that one person who cannot resist uttering some critics regarding the food. We all have that one in our family who can even criticize on Marco Pierre White and Gordan Ramsay.
Even though while chewing a small gum they can make such loud sounds which can irritates you. From drinking a glass of water to having a meal. From having a pack of chips to a small candy in their mouth . They can make such loud sounds that a people from around 50 feet can hear it out loud enough
The sweet toothers who can even skip a meal if they have their favorite sweet thing in house. Everytime they ll go with friends or family they start checking the menu from the Desserts section because as one says "Life is Short have Desserts First"
A research have shown that when you are hungry from a long period of time your sugar level drops down which makes your thinking ability too low and you start getting irritates or angry . The phenomena or the state of mind is called Hangry. And we all know that one person who can't keep himself calm if they are HANGRY
Everytime , Anytime , Anywhere , Eveywhere. After every half an hour after a meal they start feeling hungry again . A Normal person can have a three meal per day which is Breakfast , Lunch and Dinner or more often some snacks or tea time. But the Bhukkar eater can have around 10 to 15 meals a day.
Did you see someone who can even eat chips or crackers without making noise. Yeah there are some people who can eat so silently that they can barely make noise. You can't even hear a gulp of water from their mouth. Manners and not to disturb others is their moto. But dude literally ? Chips without cracking sound ? you must have some natural powers to do that.

These are the kind of eaters you ll see in your daily life. I am sorry if I am missing any kind. So, Let us know which types of eater I am missing. Which type of eater you are ? By the way I am Bhukkar.



Disclaimer: We do not allow users to post content which is copyright and We take strict actions against the users who post infringement content on our website.Although we do not host any content, users post embed videos from youtube, facebook, Dailymotion and Vimeo and are moderated before posting but we still take strict action against the copyright videos posted.If you are an official representative of any company whose videos are posted illegally on our website or you think some video infringe the copyright then you can simply send an email to info@thecookbook.pk