Cheesy Tikka cones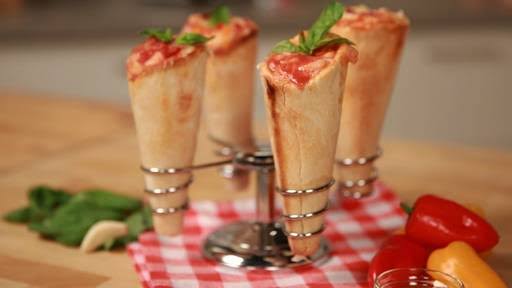 Ingredients : Boneless chicken 500gm
Tikka masala 2 tbsp
Ginger garlic paste 1tbsp
Salt n paper to taste
Viniger 1 / 2 tsp
Butter 2 tbsp
Mozeralla cheese 1 cup
Capsicum 1 cup Julian cut
Dough ingredients :
Flour 2 cup
Sugar 1 tbsp
Salt pinch
Yeast 1tbsp
Egg 1
Milk 1 cup warm
Butter 2 tbsp
Method dough:
Mix all ingredients and knead it Rest 1 hrs Now again knead it roll out and shape into cone.
Brush egg white and sprinkle sessme seeds.
Bake for 15 min at 180 ° c.
Method chicken:preheat oven 180 ° c.
Merinate chicken with tikka masala , ginger garlic paste, salt n paper and Viniger mix it and rest 30 min.
Bring a pan add butter and merinated chicken Cook 5 to 8 min medium flame.
Toss to high flame.
Add capsicum and mozzarella cheese mix it off the flame.
Stuffed in cones served it.
(Visited 3 times, 1 visits today)